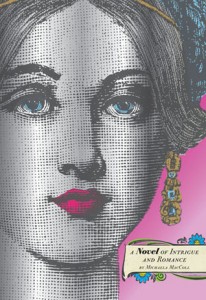 Prisoners in the Palace, by Michaela MacColl
Rating: 5 out of 5
(Summary from GoodReads)
London, 1838. Sixteen-year-old Liza's dreams of her society debut are dashed when her parents are killed in an accident. Penniless, she accepts the position of lady's maid to young Princess Victoria and steps unwittingly into the gossipy intrigue of the servant's world below-stairs as well as the trickery above. Is it possible that her changing circumstances may offer Liza the chance to determine her own fate, find true love, and secure the throne for her future queen?
Meticulously based on newly discovered information, this riveting novel is as rich in historical detail as Catherine, Called Birdy, and as sizzling with intrigue as The Luxe.
First, I want to thank YA Book Shelf for turning me onto this book (and holding a giveaway which I won). You should check out the blog to see Melissa's review of the book and an interview with Michaela MacColl. While you're there, you may want to check out other book reviews/interviews on the blog. It's a great place to go to learn about books you may have overlooked in the bookstore.
I really enjoyed this book. Historical fiction can be tricky. You need to provide enough historically accurate information and detail to be true to the time period, but you also want to be able to add in some creative liberties. It is really a fine balance to get just the right mix while keeping the story engaging and fun to read. I think MacColl has achieved this balance beautifully.
The main details of Victoria's childhood are more or less accurate. The main character, Liza, is fictional. But MacColl has drawn Liza based on historical realities – specifically the options available to a penniless orphan, regardless of her birth. By showing us Victoria as a child, the future queen of England is transformed into a vulnerable human being, not the untouchable Queen we are more likely to think of her as without the help of this book.
MacColl turns all of her characters into complex people. You could argue that this is because most of them are based off of real people, but sometimes it is harder to make a real person seem real because you have to get behind the person they are on the surface and show who they are underneath the facade. Through doing this, MacColl also exposes many of the harsh realities of life in the 1830s.
I would say that the one thing you often see in historical novels that was missing from this one was a lot of description about the clothing and architecture. But in truth, I don't think the book lost anything by having a limited amount of these elements. Sometimes I find that historical novels tend to go into too much detail about clothing and architecture and furnishings instead of focusing on the story. MacColl makes you aware of the time period through the social classes, speech, and plot elements, not through pages and pages of description, and I found this refreshing.
The final thing this book does that I love is that it has made me want to learn more about Queen Victoria. I think that is a sign of a successful historical novel – when you are dying to learn more. If you know nothing about Victoria, know tons about her but want to know more, love historical fiction, want to learn about history without feeling like you are learning, or just looking for a good read, then I recommend giving this book a shot. It is a fast, exciting read and truly is a novel of intrigue and romance.