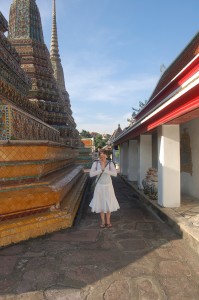 Meditation is all about clearing the mind and focusing your thoughts. So does it have a place in a writer's toolbox?
The other night I was having dinner with an acquaintance who spent the last 7 months traveling around the world. He was telling me about this 10-day meditation retreat he did in Tibet. And what he got from the retreat? He said it made him a better (faster) computer programmer because he learned how to focus his mind.
This got me thinking. When I sit down to write, I often find my mind wandering every which way. That's the curse of our super connected, internet-crazed society. There's so much going on you don't know where to look. So would meditation help me to stay focused on my writing? Or would meditation actually be a hindrance?
When I write, I have to let my mind wander. That is part of the creative process. I wander in and out of the plot, pulling at bits that work and don't work. But I also feel my mind drifting to things like what to make for dinner or how nice the sky looks today or what will happen next in that book I'm reading.
I've decided to try an experiment. For the next month, I will devote time every day to meditation. Originally I thought I would do it before falling asleep, but that's when I do my best brainstorming. Instead I will do it after work – a nice way to calm me down. Of course, since I don't really know how to meditate, this might be slow going and I may need more than a month. But a month seems pretty doable. Being as I am in the editing stage of my writing, the part I always dread, this might actually be the best time to give this experiment a try. What do you think? Do you use meditation to help your writing? Or do you think writers should have minds full of ideas circling all around competing for attention?