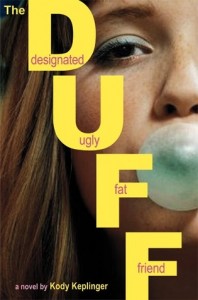 The Duff, by Kody Keplinger
Rating: 4 out of 5
(Summary from Goodreads) Seventeen-year-old Bianca Piper is cynical and loyal, and she doesn't think she's the prettiest of her friends by a long shot. She's also way too smart to fall for the charms of man-slut and slimy school hottie Wesley Rush. In fact, Bianca hates him. And when he nicknames her "the Duff," she throws her Coke in his face.
But things aren't so great at home right now, and Bianca is desperate for a distraction. She ends up kissing Wesley. Worse, she likes it. Eager for escape, Bianca throws herself into a closeted enemies-with-benefits relationship with him.
Until it all goes horribly awry. It turns out Wesley isn't such a bad listener, and his life is pretty screwed up, too. Suddenly Bianca realizes with absolute horror that she's falling for the guy she thought she hated more than anyone.
I won a copy of this book several months ago (sometime around October 2010) from Adventures in Children's Publishing and because I had a difficult time getting into it, I only just finished reading the book. But let me say, I'm glad I stuck with it.
Keplinger wrote this book as a young adult and she has proved that age does not matter when it comes to whether or not someone can write. What I also noticed about the book is Keplinger's willingness to address issues a lot of YA authors shy away from, like promiscuity, abuse, and excessive drinking. Whether this was in spite of her age or because of it, I can't say, but at times it read more like adult chick lit than YA. This isn't necessarily a bad thing, but if you are searching for a tamer, more traditional YA, this may not be the book for you.
What I really enjoyed about Keplinger's book was that she did not lean on the stereotypes – there were no ridiculous bullies, the lines of the cliques were blurry, and the cheerleaders were not evil. It was more like the high school I remember fthan the high schools I've seen portrayed in the pages of books as of late. I found this refreshing.
I also found there to be an honesty to Bianca and how she viewed herself. Painted on the pages was the pain, uncertainty, and insecurities felt by most high school girls (and, if we're being honest here, most women). It was really easy to relate to this part of Bianca even if I found it difficult to relate to some other parts of her character (to remain undisclosed so as not to reveal any spoilers).
All in all, I found this to be an enjoyable read that touched on some difficult issues, all of which were handled gracefully. I think audiences young and old will enjoy The Duff. And keep your eyes out for Keplinger's next book, Shut Out, expected for release September 2011.