I stumbled across Mary Stewart in 9th grade, and she quickly became one of my favorite authors. Born in 1916, she wrote the majority of her books in the 1960s and 1970s, most of which were out-of-print until just recently when Hodder and Stoughton decided to re-release her books with newly redesigned covers to boot.
To celebrate summer, I will be giving away three of these re-released books. The first giveaway starts today and is for one copy of Mary Stewart's Nine Coaches Waiting. *Open to U.S. residents only.
Review of Nine Coaches Waiting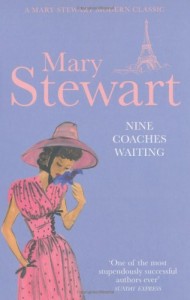 Nine Coaches Waiting, by Mary Stewart
Rating: 5 out of 5
When Linda Martin is offered a position as governess at Chateau Valmy in the French Alps, it seems like the dream job for the homeless orphan. But when Linda's charge narrowly escapes a bullet, Linda begins to suspect that things may not be all that they seem and the glamorous life she hoped for is snatched away as she questions the true nature of her employers and their handsome son.
This is the first Mary Stewart's book I read, and I loved every moment of it. Stewart transports the reader into a world of 1950s glamor in the heart of the French Alps, with handsome gentlemen, cutthroat gentry, and a healthy dash of a heroine in distress who knows how to handle herself under pressure.
Nine Coaches Waiting recalls the wonderful story-telling abilities of Agatha Christie while bringing the reader back to a time when gentry and class were very much integrated into daily life. The suspense builds from the very beginning through the setting that Mary Stewart expertly paints across the pages and doesn't dissipate, leaving you guessing until the very end. This is a wonderful, fun read and the new cover is the perfect compliment to the charming tale.
If you enjoyed the romance of Anna and the French Kiss, the mystery of Prisoners in the Palace, and are a fan of 1950s gallantry, this book is for you.
Book Giveaway
To enter, please fill out the form below to be entered into the giveaway. The giveaway will close at 11:59 on June 22. The winner will be selected at random and notified via email.
*Disclosure: The publishers provided me with a copy of this book after I expressed an interest in the author. I was not compensated for this review and the opinions expressed are my own.