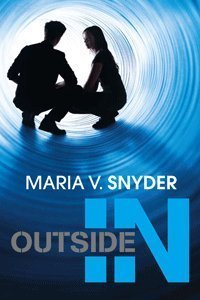 Outside In, by Maria V. Snyder
Rating: 5 out of 5
Summary: Freedom is not as sweet as Trella thought it would be. As she struggles with the expectations that she continue to lead Inside when all she wants to do is explore and get to know Riley, disaster strikes. There is something Outside. And it wants In.
I'm always a bit hesitant when it comes to a sequel, especially if I really enjoyed the first book. I was a bit worried that Outside In would not live up to my expectations. But Maria V. Snyder has delivered just like she always does.
It quickly becomes evident that the lessons Trella learned in the first book, Inside Out, have been forgotten, as often happens to real people – we change in the heat of the moment but once everything stabilizes, it is easy to fall back into your old routine. But despite her reverting to her old ways, the plot is anything but routine. As the story unfolds, we are thrown into a believable fantasy/sci-fi world full of intrigue and suspense.
The characters we fell in love with in Inside Out continue to grow, with greater depth added to their personalities and new, realistic motives thrown into the mix. In addition, we are introduced to a new enemy and a new level to the history of the world of Inside.
A great sequel and a wonderful addition to Maria V. Snyder's resume.