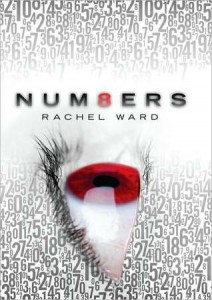 Numbers, by Rachel Ward
Rating: 5 out of 5
(Summary taken from Goodreads) Whenever Jem meets someone new, no matter who, as soon as she looks into their eyes, a number pops into her head. That number is a date: the date they will die.
Burdened with such an awful awareness, Jem avoids relationships. Until she meets Spider, another outsider, and takes a chance. But while they're waiting to ride the Eye Ferris wheel, Jem notices that all the other tourists in line flash the same number. Today's number. Today's date. Terrorists are going to attack London. Jem's world is about to explode!
I loved this book. My one complaint is that the back cover copy is slightly deceptive. I thought I was getting something different than what I got. Of course, it's probably a good thing that it was different from what I expected because had I known what it was really about, I probably wouldn't have read it and I would have missed out on a great book.
In reading the summary of Numbers, I expected more of a dystopia/paranormal type book. In actuality, with the exception of the main character, Jem's, ability to know when people will die just by looking at them, this book was extremely realistic. Throughout the pages of Numbers, Rachel Ward weaves together what seemed like a very realistic insight into life in the slums of London, exposing the reader to the harsh realities of the lower class, a class you cannot hope to escape once you've landed there.
Jem is painted in a very real, honest way, with real flaws, real strengths, and an authentic voice. Jem grows throughout the book, but in a more subtle, realistic way than you might find in other books. I think it takes real talent to make something so far-fetched as being able to know when people will die come out seeming so real. Hats off to Rachel Ward and I can't wait to read the sequel, The Chaos.