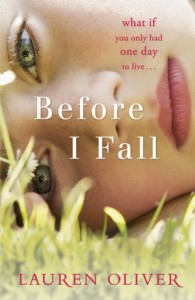 Before I Fall, by Lauren Oliver
Rating: 4 out of 5
Summary: Samantha Kingston has looks, popularity, and a seemingly perfect boyfriend. She does what she wants to who she wants, with little thought of the consequences. Until the night of February 12, when Samantha finds herself the victim of a car crash. Only, instead of waking up the next day, she finds herself reliving February 12 over and over. As Samantha tries to figure out what happened, she learns a lot about herself and the person she has become. And, she realizes she doesn't like that person. Will changing who she is change her fate? Or are some things inevitable?

If you are a fan of Delirium, Before I fall, while different, has all of Oliver's skills as a storyteller. Samantha has her flaws, but she is still lovable. There is a vulnerability about her that draws the reader in. It was very fulfilling watching Samantha make different choices each time she relived the same day and learned more about what was important to her, and how a simple decision can have a huge impact.
This book had a Groundhog Day feel to it, for those of you old enough to remember that movie, but I found the plot and characters to be more captivating than the 1993 movie.
Oliver is a master at creating dynamic characters, and she does not fail to deliver in this book. By adding her own spin on the plot, with the reliving of the same day over and over, a device I have not seen used in any other YA books, Oliver has created a fresh, unique plot certain to appeal to lovers of paranormal and contemporary fiction alike.