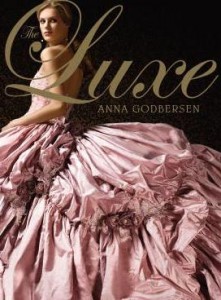 The Luxe, by Anna Godbersen
Rating: 4 out of 5
The Luxe is the first book in a young adult historical fiction bordering on historical romance series. Set in 1899 New York, The Luxe delves into the lives of the New York socialites at the turn of the century. The Luxe begins with a funeral and then takes you further back in time to the events leading up to the death by following the story of four females whose lives are intertwined through a complex series of love triangles: Elizabeth Holland, the well-mannered socialite from an old-money family; Elizabeth's wild and unconventional little sister, Diana; Penelope Hayes, a new-money socialite eager to pave her way in society and not used to hearing no; and Lina Broud, the once childhood friend and now lady's maid to Elizabeth.
I thought this book was well done. The descriptions were rich and I felt like I was living in 1899 New York. Godbersen not only revealed the daily life of the upper class, but also gave the reader insight into the less glamorous lower class.
Where the book was lacking was in the development of the supporting characters. I thought that Elizabeth and her sister grew throughout the books along with one of the male love interests, Henry Schoonmaker. Lina and Penelope, however, did not seem to have much dimension. There were attempts at giving Lina dimension, but for me, it fell a bit short. And Penelope had little to no dimension at all. She was a spoiled girl and lacked anything that would cause a reader to sympathize with her.
In addition, I thought some of the foreshadowing was a bit too obvious. I like to be surprised, and while I was surprised in how the ending came about, I was not very surprised by the ending.
What I really liked about the book was that this was an appropriate young adult version of a historical romance novel. While there were suggestions of sexual activity, it was not overtly descriptive. If you read my review of Kristin Cashore's Fire, you will recall that I think sex in ya books can be tricky. I thought that Godbersen handled this topic with grace that was especially appropriate to the time period in which she was writing.
Another thing I enjoyed about this book was the way Godbersen began her chapters. Each chapter began with either a newspaper excerpt, letter between the characters, or an excerpt from a manner's book from the time period, and each excerpt foreshadowed the events of the upcoming chapter.
I highly recommend this book, not just to lovers of history, but to anyone looking for a good love story to get wrapped up in. And perhaps the greatest thing about this book: you won't have to wait for the sequel, Rumors, to come out, because it and two other books in the series, Envy and Splendor are also already out.