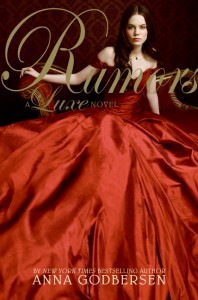 Rumors (Luxe, Book 2), by Anna Godbersen
Rating: 4 out of 5
Rumors is the second book in the Luxe series. Rumors, set in the second half of 1899, continues the story of society girls Elizabeth Holland, Diana Holland, Penelope Hayes, and the maid turned society woman, Lina (Carolina) Broud.
Last week I looked at the first book in the series, The Luxe, and decided I had to find out what happened next, the sign of a successful series. And I was not let down. In fact, I enjoyed the second book more the first.
When you are engrossed in a series, you already care about the characters. If you didn't care about them, you wouldn't have continued reading the series. My need to know what happened and Godbersen's ability to deliver kept me engaged from beginning to end.
What I really liked about this book, especially in comparison to The Luxe, was that, whereas The Luxe was a bit predictable, Rumors kept me guessing. Although I did spend most of the book in a state of anxiety, this wasn't necessarily a bad thing. I like a book that surprises me, and Rumors delivered surprise after surprise.
Although I enjoyed Rumors more than The Luxe, Rumors did have some of the same downfalls from the first book – Penelope's character did not grow. I grew bored with her antics and would have liked to have seem some growth. Instead, she was static. Henry grew a little bit, but he also seemed mildly static to me.
All in all, I found this to be an enjoyable read and, based off of the first two books, I recommend this series.