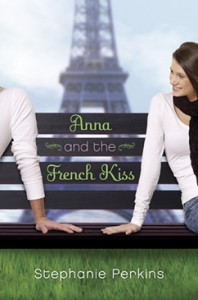 Anna and the French Kiss, by Stephanie Perkins
Rating: 5 out of 5 (One of my new favorites)
Anna, 17, is gearing up for her senior year in Atlanta, only to learn that she will be finishing high school at a boarding school in Paris. Anna is less than thrilled to be leaving her friends, family, job, and almost boyfriend behind. But when she gets to Paris, Anna meets St. Clair, the attractive, charismatic heartthrob of the school, and suddenly Paris doesn't seem so bad. St. Clair quickly becomes Anna's best friend, but will they be able to overcome all the obstacles in front of them and become more than just friends? You'll have to read the book to find out.
I was instantly hooked. But I may be a bit bias. Like Anna, I grew up in Atlanta and, just when it seemed like things might finally be falling into place with the boy I had a huge crush on, I was forced to move to Europe. Unlike Anna, my family came with me.
Having spent three years in an International School located in a country where I did not speak the language and of which I knew little about before moving to, I can attest to the authenticity of Perkins' story. She captured what it is like to be thrown into this type of situation, and how off it feels when you return home. Upon finishing the book, I immediately looked up her information to find out if Perkins' was the product of an International School. And I was shocked to learn that she was not. More props to her and her storytelling abilities.
Even if you cannot relate to Anna as an American teenager forced abroad, Perkins' so honestly captures the turmoil of high school relationships, the angst of moving to a new school, the heartache of betrayal and losing a friend, the complex relationships between teenagers and their parents, that this story has universal appeal. Everyone can relate to it on some level. And Perkins' captures these feelings and relationships so fully that at times, I felt like I had been thrust back into those teenage years.
Take, for example, the following passage describing a trip to the movies with friends (since I read this on my Kindle, I only know the ebook location, which starts at 1309):
"St. Clair coughs and shifts again. His leg brushes against mine. It stays there. I'm paralyzed. I should move it; it feels too unnatural. How can he not notice his leg is touching my leg? From the corner of my eye, I see the profile of his chin and nose, and -oh, dear God – the curve of his lips.
There. He glanced at me. I know he did.
I bore my eyes into the screen, trying my best to prove I am Really Interested in this movie. St. Clair stiffens but doesn't move his leg. Is he holding his breath? I think he is. I'm holding mine. I exhale and cringe-it's so loud and unnatural.
Again. Another glance. This time I turn, automatically, just as he's turning away. It's a dance, and now there's a feeling in the air like one of us should say something. Focus, Anna. Focus. 'Do you like it' I whisper.
He pauses. 'The film?'
I'm thankful the shadows hide my blush.
'I like it very much,' he says
I risk a glance, and St. Clair stares back. Deeply. He has not looked at me like this before. I turn away first, then feel him turn a few beats later.
I know he's smiling, and my heart races."
The moment I read this, I was transported back to the movies as a teenager, sitting next to a boy, uncertain if he liked me, uncertain if I should hold his hand, uncertain if this was a date or just a friendly outing. The way Perkins' paints this scene is perfect, and the rest of the book depicts the teenage years equally as well.
I cannot express how much I loved this book, or how highly I recommend it. So what are you waiting for? Go get your copy today.