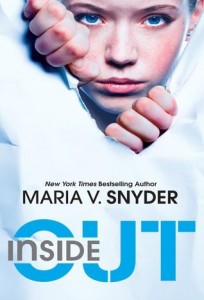 Inside Out, by Maria V. Snyder
Rating: 4.5 out of 5
(Summary from GoodReads)
Keep Your Head Down. Don't Get Noticed. Or Else.
I'm Trella. I'm a scrub. A nobody. One of thousands who work the lower levels, keeping Inside clean for the Uppers. I've got one friend, do my job and try to avoid the Pop Cops. So what if I occasionally use the pipes to sneak around the Upper levels? The only neck at risk is my own…until I accidentally start a rebellion and become the go-to girl to lead a revolution.
I'm a big fan of Maria V. Snyder. I loved the Study Series and was a bit shocked when I learned about this series because the worlds are so very different. Whereas the world in the Study Series lives in the realm of fantasy books, Inside Out is more in line with sci-fi. Despite the different genres, Snyder has succeeded yet again in creating a rich world full of characters you quickly fall in love with.
The book is pretty faced-paced. I read it in one weekend. Had I not been in the middle of a move, I probably would have read it in one sitting. Right from the beginning of the book, you sense the urgency of the story as Trella wakes up to the rush of water and only just escapes the pipe she was sleeping in. And from then on, the movement of the book continues. Although the setting is more or less static – a giant metal structure with thousands of people enclosed inside – you never feel that the narration is constrained.
The world of Inside that Snyder has created is intriguing and very detailed, not that I would expect anything less from her. She manages to turn this small world into a complex system, turning something as mundane as the pipe system into a key feature of the environment.
Her characters are also complex and interesting, each with their own series of flaws, including Trella who not only has many flaws, but comes to understand them and grow as the story progresses. And laced through it all are series of betrayals, but you cannot hold them against the characters because once you understand the motivation behind their betrayals, you realize that they are only human, acting as any human would. Snyder's ability to make her characters human is one of the things I most enjoy about her books and I think she shows growth as a writer in this area when compared to the Study series (not that the Study series was lacking in this department).
While on the subject of character, Inside Out is told in first person, and I'd say that Snyder has done an excellent job capturing the voice of Trella. I really felt I knew who she was and nothing sounded out of place. If looking for a good example of first person narration, you should definitely give this book a read.
My only complaint, a complaint I have with a lot of books, is that elements of the ending became a bit confusing. Fight scenes prove time and time again to be difficult to write. But with this being the only real weakness of the book, I'd say Maria V. Snyder has created a successful, well-written book definitely worth reading.
As a side note, Inside Out had some similarities with Across the Universe. If you enjoyed Across the Universe, you should give Inside Out a read. I promise you won't be disappointed.